Disclosure
Thank you in advance for supporting this blog! I strive to create quality content weekly that inspires you to create. With your support I can continue to provide frugalish tips, recipes, how-tos, and projects.
All thoughts, opinions, and photos found on The Semi-Frugal Life blog are mine unless otherwise noted. If you'd like to use a photo, recipe, or project idea, please link back and thanks in advance for the blog love!
Grab a Button
Copy and paste one of the html codes below to add my button to your blog.
<a href="http://www.thesemifrugallife.com/" target="_blank"><img alt="The Semi Frugal Life Button" src="http://i273.photobucket.com/albums/jj235/thesemifrugallife/semi-frugalbutton125px_zpsc9bad6c1.jpg" title="" /></a>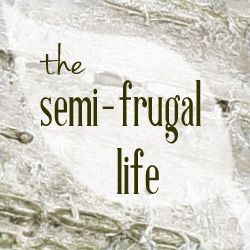 <a href="http://www.thesemifrugallife.com/" target="_blank"><img alt="The Semi Frugal Life Button" src="http://i273.photobucket.com/albums/jj235/thesemifrugallife/semi-frugalbutton_zps174c67ae.jpg
" title="" /></a>